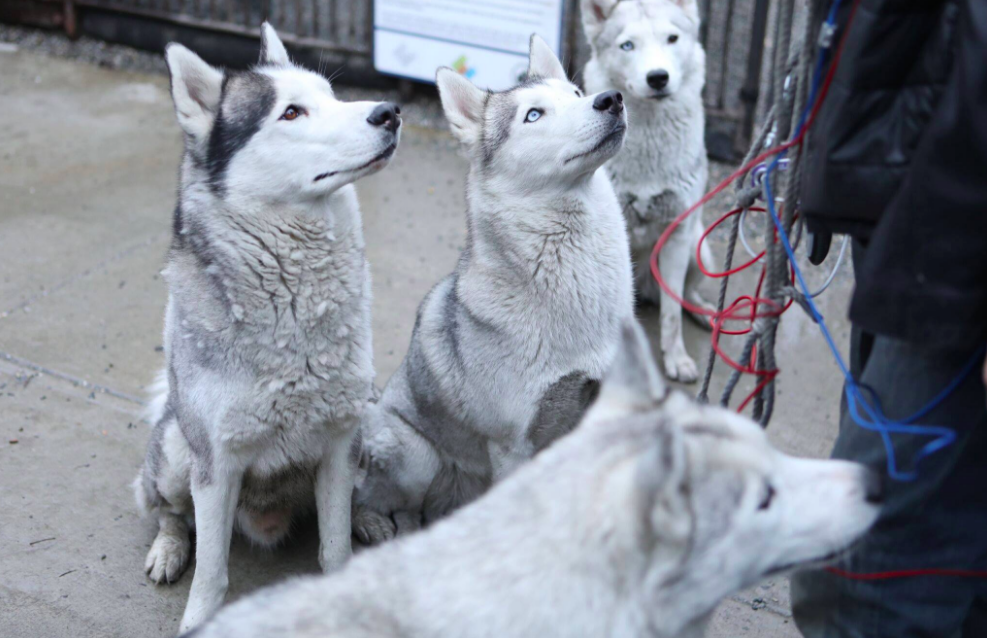 While walking the streets in New York, it is no surprise that city dogs are held to a higher caliber than those living anywhere else. Whether it be their jackets and shoes they sport in the colder weather or the numerous dog friendly restaurants and bars, canines seem to take on a more human role here than anywhere else.
There are many common misconceptions about dog ownership in NYC like the belief that they are cooped up in tiny apartments without any green space or that it is really difficult to find dog-friendly buildings. The truth is there are dog parks in every neighborhood in New York and there are many places you and your pooch can call home. In fact, some buildings even have their own groomers and doggy day cares!
Many of Next Step's agents are dog owners themselves! We asked Margit Brandt, Samantha Brody, Sarah Minton and Victoria Scott about their experiences and they provided their own insight and advice.
MEET THE PETS
          Penny Brandt is a 55 pound 1 year old Pitbull. Margit rescued her when she was 4 months old on a New York street corner (88th and 3rd) in the pouring rain. She never thought they would keep her forever (and even told her husband it would only be for the night)! Because Penny is a Pitbull it was a little difficult for Margit to bring her to their Upper East Side home as the breed is restricted by NYC legislation in many buildings. However, we are working to get these laws changed.
Margit loves to take Penny on walks at the Jacqueline Kennedy Onassis Reservoir in Central Park year round.
"Because Central Park is also off leash before 9AM which is awesome it gives dogs time to socialize/just be dogs in the early morning hours. When we were downtown, it was always Washington Square Park and West Side highway" Margit added.
Besides going to the reservoir, she loves bringing Penny to eat outside at some of her favorite restaurants, Eli's and Paula's. Margit recommends the team at Carnegie Hill Veterinarians for those living uptown but when her family was downtown, they used Washington Square Animal Hospital.
"They both have super skilled knowledgeable doctors and are so easy to deal with for the humans too," Magit says.
As for grooming, it is all done at home– Penny's short hair is very easy to manage!
New York is a great place for purchasing different dog toys as there are pet stores on seemingly every block. Margit's favorite stores are Doggy Style in Greenwich village and the Petco in Union Square. She also recommends using Chewy.com as a resource for dog supplies. She puts most of Penny's food, treats and toys on auto-ship and it is delivered right to their door.
"The best advice I can give to anyone wanting a dog in New York is to do it! It will make your life so much fuller. My only other recommendation is to rescue there are so many dogs that need homes and the rescue dogs will A. Love you the most and B. Come in great health and often general training (including potty training) is done which is often the hardest part of getting a dog."
"For those interested in rescuing look at In Our Hands Rescue, Muddy Paws, NYCACC, Mr. Bones & Co., New York Bully Crew, Rescue Dogs Rock NYC, Bideawee, Animal Haven, North Shore Animal League, and Second Chance Rescue. If you're not sure if you are ready to make the jump yet, consider fostering – it is a great way to get started and to help a dog in need transition to their forever home."
                    Eldrick Tont "Tiger" Woods Leigh Brody Moses (aka Tiger Woods), came from Upstate New York on Christmas morning a year ago. He is a small (but mighty), 11 pound Havanese named after the golfer and a combination of his owners' names. He lives with Samantha and her fiance in Flatiron in a very dog friendly building. He also can be seen hanging at the Next Step office greeting clients and keeping everyone entertained.
Tiger is also a certified service dog, which gives him extra leeway in terms of where he is allowed to go.
"He comes with me everywhere. Seriously. He goes with me shopping; he comes with me to restaurants; he has attended every meeting I have had with my wedding planner in North Carolina- we spend a LOT of time together," Samantha says.
Like many other dogs, Tiger doesn't always enjoy the business of the dog parks. However, their building offers green space where he plays everyday. Sometimes you will see him at the nearby Madison Square Park dog run. He gets his hair done down the road at Biscuits & Bath on 13th street and 6th avenue.
Samantha recommends Heart of Chelsea Animal Hospital not only for their outstanding care for Tiger but also for their patience with "neurotic pet parents." She loves buying him different outfits, especially from FabDog.
"He has this shearling winter coat that he loves. We also got matching PJ's and a raincoat!" She added.
When she needs a dog walker, Samantha uses the Wag app which is an Uber-esque service that brings walkers right to your door. However when she leaves town or is away from home for an extended period of time, she won't leave Tiger with just anyone.
"Sometimes I'll bring him into the office and buy someone lunch in return. Some days he will go to daycare which he LOVES! It wears him out so when I get home, he is not wild. If I have a half day, I'll leave him at home and get someone to walk him."
She highly recommends anyone gets a dog but to be prepared for the money and effort expensed. Tiger has made it all worth it!
         Wallace "Wally" Minton is a 7 month old English Cocker Spaniel living in SoHo. At 25 pounds, he is a medium sized, proper fellow who came to the city from Lancaster, PA. Sarah wanted to give him an English name to go along with his breed, and it certainly suits him!
Sarah and Wally live near Washington Square Park so that is their usual stomping ground. Their dog run is always packed so it is great for socializing. She also says that Narcissa at The Standard East Village is a great place to bring your pets.
"The hotel staff and waiters were all ​very ​sweet and gave us treats.​ Tom and Jerry's is also a favorite pet-friendly dive bar," She says.
Sarah doesn't travel too far to take Wally for his haircuts. She recommends Unleashed Spa on Avenue B but is also open to other suggestions! His vet is also in the same neighborhood at Greenwich Village Animal Hospital. "It came highly recommended and is super convenient for me. The doctors and staff are all really friendly."
For Wally's toys and necessities, Sarah goes to either Pet Bar on Thompson street or PetSmart on Broadway. Both are close to home and have great selection. She also recommends using FurKid company as a dog walking service.
"​I have yet to experience a summer season (extended time away) with Wally, but I think I'll have to start taking him to daycare (I've heard Dogma is great) given the limited flexibility of our summer schedules. Normally, I can manage popping in and out of the apartment to walk him or take him to the dog park myself, but if I can't then I book two walks with FurKid the night before," Sarah adds.
As a relatively new dog owner, Sarah has a lot of advice for those looking to add a new furry family member.
"For those thinking of getting a dog, I highly recommend reading a training book beforehand. I had dogs growing up, but I hadn't trained them myself so I'd never experienced the frustrations of training firsthand (or I blacked out how much puppies poop and bite). I'm very glad I did my research ahead of time because, even with a plan in place, it was overwhelming. I recommend Before & After Getting Your Puppy by Dunbar– he's a little alarmist, but the work pays off in the end!"
          Molly Scott, the smallest but also the oldest of the bunch, is a 9 year old Yorkie. She is 7lbs of "pure sugar" and is often times found at the office when she is not at home. Molly is a downtown girl having lived in SoHo, Nolita, Union Square and Greenwich Village. She is originally from North Carolina, but hasn't missed a beat since moving to the city.
Molly's favorite places to socialize are the super dog-friendly Union Square and Washington Square Parks. Her small size makes her very mobile so she goes with Victoria almost everywhere!
For a veterinary, Victoria recommends Washington Square Vets. "They are a small office, super friendly, and the Vet makes you feel really comfortable." As for grooming, Molly is a mama's girl so it is all done at home.
Molly is a registered Support Pet so she can go to almost any restaurant with Victoria, but their favorite is The Pavilion in Union Square in the summertime. Like her friend Penny, Molly also gets a lot of her toys from Doggy Style in Greenwich Village. She is often seen sporting many fun accessories.
Victoria has never used a dog walking service because she usually brings Molly with her to work. "She loves to greet our clients!"
She also reminds any NYC dog owners that "NYC is expensive and having a dog is even more expensive!" But Molly has certainly been worth every penny.
We encourage everyone to consider rescuing a dog. Some of the shelters and rescue leagues our staff and clients have adopted from can be found via Instagram below! #AdoptDontShop