Lauren Kossman
Intern to Managing Broker, Meena Ziabari
Lauren believes that the key to becoming a successful intern is to listen and to not be afraid to ask questions.
Originally from Pittsburgh, Pennsylvania, real estate runs in Lauren's blood; she is the fourth-generation real estate professional. She is excited to follow in her family's footsteps. She currently lives in Hell's Kitchen, but her favorite neighborhood is the West Village because it reminds her of the neighborhood where she grew up: quiet, with great shopping and great food.
Lauren is known for being quick on her feet in the fast-paced world of New York City real estate. She once exceeded a client's expectations when the client's budget and neighborhood preference changed – in the middle of the tour! Lauren quickly rearranged the tour at the last minute to accommodate her client.
She is studying economics with a concentration in real estate and finance at Bucknell University in Lewisburg, Pennsylvania, and she expects to graduate in 2020.
Jennifer Kuhl  
Intern to Agent Margit Brandt
Jennifer appreciates Next Step Realty for allowing her the opportunity to gain valuable experience and knowledge regarding what it takes to be a successful real estate agent.
Here, interns are a vital part of the company – and not "just the back office." This has allowed her to personally connect with clients and help them make a significant transition in their lives.
While she was born in the Netherlands, she grew up right here in New York City.
Jennifer is studying business management and communications in Rollins College in Winter Park, Florida, and she expects to graduate in 2020.
Crista Kelleher
Intern to Agent Victoria Scott
Crista believes the key to becoming a successful agent is genuinely caring about people. She loves helping clients find their first New York City apartment!
She hails from the small seaside town of Wantagh, New York – only a 50-minute train ride from the city. It's no surprise this small-town girl appreciates the East Village's laid-back vibe. She also loves the neighborhood's great shopping, restaurants and night life.
When she's not working at Next Step, you can find her relaxing with her lab Callie, going to the gym, shopping, hanging out with friends or exploring New York City.
Crista studied at SUNY Cortland, and she recently graduated with a Bachelor of Arts in Communications.
Alec Clifford
Intern to Agent Sarah Minton and Jake Vitale
Alec believes the keys to becoming a successful agent are being honest, organized and personable. He utilizes his genuine interest in clients to assist them in finding their ideal apartments. Alec goes above and beyond by helping clients with everything from teaching them how to accurately take apartment measurements to assisting with furniture layout ideas.
Before he started college, Alec took a gap year to volunteer in Latin America. Traveling on his own for a year while strengthening his fluency in Spanish is one of his greatest achievements. He believes learning a second language benefits both his clients and co-workers.
Alec is originally from Virginia Beach where he loves surfing and playing spike ball. He's currently staying in East Williamsburg, Brooklyn, and enjoying his summer in New York City. His favorite neighborhood is the East Village, thanks to the great clubs and inexpensive restaurants and bars.
He is majoring in real estate and Spanish at the University of Georgia.
Maddie Alexander
Intern to Agent Jessica Bailey
Maddie enjoys helping Next Step Realty clients find awesome apartments, where they are genuinely excited to live.
She understands customer service is all in the details. Simple tasks, like measuring apartments or making extra key copies, might seem insignificant, but these small touches mean a lot to clients. She also understands the importance an upbeat attitude and personable service.
Maddie lives across the river from Manhattan in New Jersey, but her favorite New York City neighborhood is Greenwich Village — thanks to its beautiful brownstones and great restaurants.
This dedicated broker-in-training's tenacity doesn't stop when she leaves work. Not only has Maddie finished the New York Marathon, but she also has her pilot's license. An avid traveler, she's visited all 50 states.
Hans Seherr-Thoss
Broker Intern to Agent Jordan Glaser
Hans believes the key to becoming a successful agent is the ability to adapt to new and changing market conditions and developing an ongoing relationship with clients.
A New York City native, Hans enjoys helping people from diversified backgrounds find new homes. He currently lives in the Upper East Side, yet his favorite neighborhood is the Lower East Side, thanks to its young vibe.
He's also an avid scuba diver, and on his days off, you can often find Hans at the beach or playing golf.
He is currently studying both commercial real estate and finance at the College of Charleston in South Carolina, and he expects to graduate in 2020.
Catherine Brennan
Executive Assistant Intern to CEO Blair Brandt
Catherine enjoys the opportunity to do something different every day at Next Step Realty, and she loves the company's lively culture.
The West Village is Catherine's favorite neighborhood – thanks to its low-key vibe and sparse crowds –  and she can even tell you where to eat and shop. When she's not at work, you can find her exploring the city or enjoying a day at the beach with her friends and family.
Originally from Madison, New Jersey, she splits her time between her hometown and Manhattan's Lower East Side. She even studied abroad in Florence, Italy.
She is currently majoring in organization and management and minoring in cinema and media at Gettysburg College in Pennsylvania, where she was elected secretary of her sorority. She expects to graduate in 2019.
Stephanie Strickland
Marketing and Operations Intern
Stephanie loves working with different clients and brokers on a daily basis at Next Step's East Village office. There's never a lack of character in this neighborhood and there are plenty of opportunities to enjoy the summer weather. After work, you can find her exploring the many parks or enjoying a drink with friends on a sidewalk café.
Volunteering is extremely important to Stephanie. She spent two summers in Costa Rica and the Dominican Republic building water systems for struggling communities and saving endangered turtles. She also traveled abroad last year to study Spanish, art and entrepreneurship in Barcelona.
Stephanie currently lives in Ridgewood, New Jersey, a bedroom community of New York City. On weekends, you can find Stephanie taking trips to the Jersey Shore, where she enjoys playing tennis, running, or hanging on the beach reading a good book.
A senior at Miami University in Ohio, she is majoring in marketing and minoring in graphic design. Stephanie regularly works with Fortune 500 companies as a part of her Women in Business program. She expects to graduate in 2019 and hopes to move to New York City to work in marketing after graduation.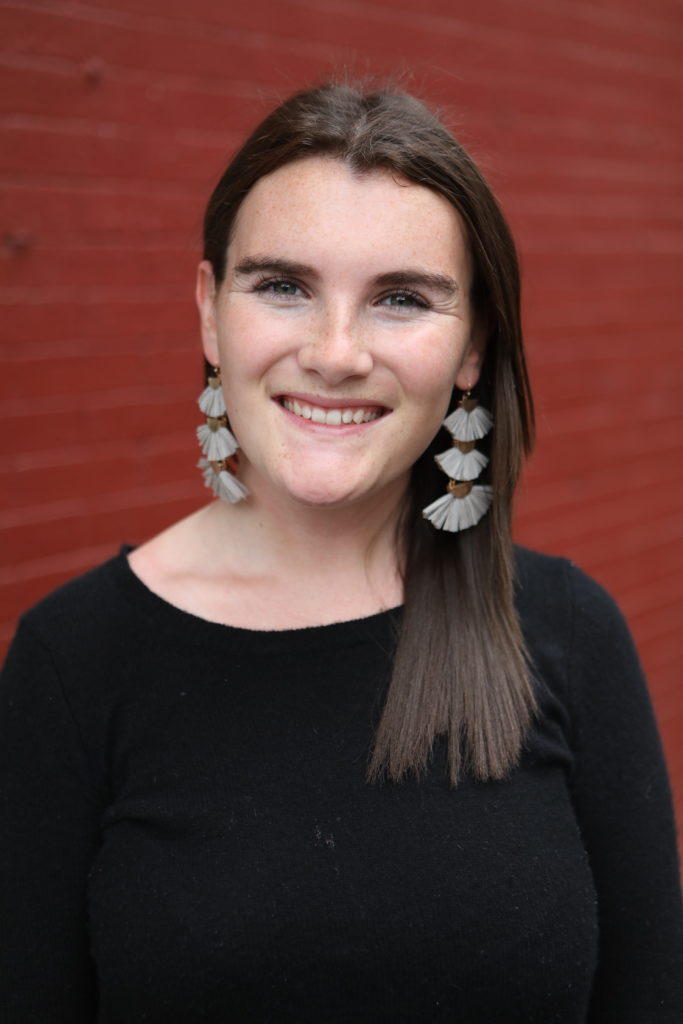 Ryder Ferrone
Client Relations Intern
Ryder loves working at Next Step's midtown office – but she's a Downtown girl at heart.
Though she's originally from Dorset, Vermont, she currently lives in Greenwich Village. According to Ryder, one of the best places in the city for beautiful views is the High Line in the Meatpacking District. Ask her about her favorite nearby bars and restaurants while you're there!
When she's not working, you can find her rollerblading along the Hudson River to her favorite restaurant in the West Village – Tartine.
She is majoring in media and society and minoring in entrepreneurial studies at Hobart and William Smith Colleges in Geneva, New York, where she is a member of the entrepreneurial leadership club. She also studied in in Rome for a semester.
Sydney Sill
Finance Intern
Sydney enjoys learning the ins and outs of the New York City real estate market firsthand as well as the financial workings of Next Step Realty.
Though she hails from Perry, Ohio, Sydney currently lives in Manhattan's Upper West Side, and her favorite New York City neighborhood is SoHo. On her days off, you can find her at the beach with friends – or even traveling to Ireland where she recently spent St. Patrick's Day!
She is currently majoring in finance and minoring in real estate at Ohio State University where she is the vice president of communications for the international women's fraternity, Pi Beta Phi. She also serves on the Ohio Union Activities Board where she plans on-campus student events. She expects to graduate in 2019.